Contest deadline over. Now we wait.
The deadline has come and gone for entries to be posted for the contest. I just checked the Absolute Write website and saw 308 entries. I've read some 60 entries so far and there are some terrific writers in the contest. I don't think I have a snowball's chance in hell of finishing in the top ten. There are at least 20 entries that I wrote down as being possible winners. What are the odds? Only the judges know, and while they make up theirs minds, I'll continue to edit my completed novel.
Make me smile. Leave a comment...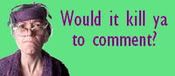 Comment Icon From
Paper Napkin