Entered Absolute Write Idol contest.
Today I did something for fun that nearly sent me into the world beyond. I entered the Absolute Write Idol contest with an excerpt from my WIP. My heart pounded against my rib cage and I nearly had a panic attack when I clicked the send button to post my work. It's not like I'm afraid of people reading my work, I write monthly columns for many publications. For some reason, posting in a contest was different—the writing will be judged. It's not out there giving a message, teaching a writing technique, or sharing a personal experience; it's out there for three judges to decide if it's good enough to stay in the running for an ongoing weekly contest. For me, it's more of a test to find out if the WIP I'm writing is good enough to catch a reader's eye.

The judge's decisions will be posted April 1. In honor of my entering this contest, I've decided April 1 will be the day I quit smoking. Though, if I do make the top ten finalists, I'm not sure this is a good time for me to quit my nasty habit. Not smoking could be my downfall if I do happen to be a finalist. Then again, it may give me more incentive not to smoke. We'll see.
Make me smile. Leave a comment...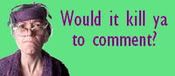 Comment Icon From
Paper Napkin