Today "IS" today.
Tuesday, February 15

Thank goodness I woke up this morning feeling half presentable. For that matter, thank goodness I woke up. I think it has something to do with the ability to vent, brush off negativity, and act. Yes, I said act, not write. I've always considered myself an optimist, but lately I've found myself falling into hopeless pessimism. What can go wrong, will go wrong. Especially if it involves me.

After I heard the pop, I did go back and start over...with everything.

This morning I woke up with this attitude: I don't care what happens, I'm not going to let it bother me.

I have been trying to condition myself not to become stressed out by little things, and from now on, everything is a little thing.

I hadn't been angry at anyone but myself. I was angry because I forgot how precious life is, and how to laugh at myself.

I kept my fake smile, and forced myself not to care about anything but being alive. I ignored all the previous day's problems and concentrated on editing a book that "needs" published. (Of course, we all think that of our baby's, don't we?) One swipe of the scrolling mouse (long story) almost put my head in the wrong place. But instead, I laughed, agreed that my co-author had a very good point, then I closed the file to think, and opened up AIM with a smile to my friend, because "today is today--a new day". And I'm hoping she's not in a horrible mood again. Quite frankly, I can't deal with the up one day, down the next syndrome. To me any day is a good day if my feet hit the floor and I'm able to walk to the kitchen for my morning coffee.
Make me smile. Leave a comment...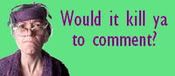 Comment Icon From
Paper Napkin