Where did Friday go?
Friday, February 11 writing exercise

Flat
vacant
ribbon
boom
gleam

Where did Friday go? The gleam in her eyes disappeared. Her vacant house was no help and the soft music playing from her stereo sounded flat instead of soothing. The loud boom when she started the car was the first sign; some days end before they begin. She took the ribbon off her finger and looked at her list. Today is Saturday. Now what was it I'm supposed to do?

Joanne
Make me smile. Leave a comment...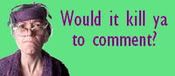 Comment Icon From
Paper Napkin