Random Rants: A Week In The Life Of Joanne
Today hasn't been the worst day in my life, but it comes close.

I take care of my 81-year-old mother who has the onset of Altzheimers. It hasn't come to a live-in situation yet, but I know it won't be long before I move all my important things to her house. For now, three times a day, I walk through ten acres of woods, between her house and mine, to make sure she eats three meals and takes her medication properly. Then I walk back down before dark and stay the night with her. At 52+ my body sometimes tells me to drive the long way around.

I accepted the fact long ago that I would be her caregiver, as I was in helping her with my father who passed on the first day of spring in 1998 from Altzheimers and Dementia from a stroke. My mom is not a problem. My problem is stress. Too much of it can kill me.

So back to why I'm here today.

Last Tuesday my car broke down. So I wasn't given the choice of driving or walking to mom's house. I had to walk. She didn't want me to have to trek through the woods all day, so she told me to call her and just remind her to heat up her meals and take her pills. Stupid me, I always respect my mom and listen. Big mistake.

Wednesday my mechanic estimated parts and labor to fix my car at $300. Forget that! I'm still trying to get out of the whole from the $100 washing machine repair. So luckily, (the one good thing this past week) someone fixed my car for me with a mere $30 part. That put me back in a fair mood. I drove to mom's house that morning and found she hadn't eaten and hadn't taken her pills when I called on Tuesday evening. I returned home after making her breakfast to find my kitchen floor flooded by my dishwasher that quit running mid-cycle. It's now at the end of the driveway waiting for the garbage collection.

Mind you, I'm still in control, ignoring the stress, and still trying to smile.

On Thursday my attorney called at told me I had to go to a jury trial because the guy who hit my car more than a year ago, and caused me to have cervical spine surgery, decided he's not paying anything.

I have no idea where Friday went...see my post below.

On Saturday and Sunday, my phone rang ten times, ending the weekend with more on my plate than I wanted. My deceased husband's son (my step-son) had been using my social, address, and phone number for his contact information; all the ten calls were from creditors looking for him.

Monday was the worst. Wonderful Valentine's Day. I went to the drug store to pick up my migraine pills only to find out that I have no health insurance. I returned home to call my insurance company and was told I had to enroll in a Cobra plan that costs $400 a month because I was only eligible for health insurance for a year after my husband's death. If you've ever dealt with any type of insurance company, you know regardless of what you tell them, they don't listen. I explained that because my deceased husband had 35 years vested, I was entitled to stay on the employee widow retirement plan. I called the company where he had worked and human resources told me the HMO I had been paying each month for the past year was the wrong plan and I should have been on BC/BS coverage. So after all this, I still don't have health or life insurance until the insurance company does an investigation, and I found out that for the past year I paid $500 more for an HMO with less coverage than the BC/BS plan I should have been on.

To top off everything else, I realized how much my head has been up my butt lately; my co-author told me I needed to "start over" a final edit on our book because the edits and additions I made were unacceptable. She told me in no uncertain terms she would not accept my edits on our book; edits to sections I wrote.

I have always used writing as an outlet, especially when my life is turned upside down. Now I'm being told by my writing partner that my writing sucks, so I buried my head further and waited for the pop. You know that sound made when you pull your head out of your backside.

And someone told me not to be stressed. I'd rather be told how not to be stressed.

Enough of my ranting. Tomorrow is a new day. I just hope it doesn't turn out to be another Valentine's Day. I'll need all the help I can get if I end up like Bill Murray in the movie "Groundhog Day."
Make me smile. Leave a comment...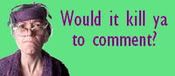 Comment Icon From
Paper Napkin