Fading Into the Past - Week 2 Idol Entry
Fading Into the Past
by
Joanne D. Kiggins

Mom's gaze riveted to the bowl in front of her.

"I'm sorry."

"OK Mom, tell me what you're talking about here, because I'm lost."

"That time I slapped you. I'm sorry."

"Are you talking about when I was in high school?"

She looked confused.

"It wasn't that long ago, was it?"

"Yes, Mom. That happened 36 years ago. What in the world made you think of that now?"

"I don't know. I just did and I don't know if I ever said I'm sorry, so I wanted you to know I am."

I walked over to where mom was sitting, kissed the top of her head and hugged her.

"Thanks, Mom. We straightened that out right after it happened. Forget about it."

"As long as you know I'm sorry."

"I know, Mom. And I'm sorry, too."

"Are you going to be here for awhile? I think I'm going to take a nap."

"Sure, Mom. I'll finish the laundry while you rest."

Mom went into her room and I tossed another batch of clothes into the washer. I thought of all the conversations she and I'd had in the past few days. What triggered the thought of that day so many years ago?

* * *

It was the first and only time either of my parents ever laid a hand on me. I was on the phone with my best friend Gale who had just told me she was pregnant. Gale knew I could discuss anything with my mom so she asked me how she should break the news to her mother.


"I don't know how you should tell your mom that your pregnant, but you need to tell her before you start showing."

My mom walked by the hall a few times tidying the house during my discussion with Gale. I thought nothing of it.

"I have to tell her I'm pregnant and tell her I won't be finishing school."

"You can finish this year."

"Not really. I've been wearing loose clothes. I'm five months already."

"What? Are you sure? I can't believe you didn't tell me before this."

"I just found out. I only missed one period and that was this month. The doctor said there are some women who don't miss their menstrual cycle for some reason."

"You're joking, right? They never said anything like that in sex education."

"Tell me about it. I don't know what to do."

"What did Jim say?"

"He wants to get married. My mom just came home," she whispered. "I didn't read the book yet for English class so I'm going to be rushed to write that book report by next week."

"Yeah, I'm in the same boat." I tapped the pen against the phone. "Gale, I know you can't talk about it now, but you have to tell her soon."

My mom walked by again and I smiled and waved at her.

As soon as I was off the phone I rushed into the kitchen to tell my mom the news about Gale and ask her how she thought Gale should tell her mom. Dishes clattered, pots and pans clanged, and the look on my mom's face could have wilted lettuce.

"What's wrong, Mom?"

She dried her hands and threw the dishtowel on the sink.

"I'm calling the doctor."

"Why? Are you sick?"

"No. I want to know if you've been messing around."

"Messing around. What are you talking about?"

"I heard you and Gale talking. She's pregnant, isn't she?"

"Yeah, that's what I came in to tell you."

Mom reached for the phone and began to dial.

"I'm having the doctor check you to see if you've had sex."

"I haven't had sex and I'm not going to the doctor."

"Oh yes you are."

"No, I'm not. I can't believe you'd do that. If my word isn't good enough, too bad." I pushed the button on the phone to disconnect the call.

In two quick motions mom slammed the receiver in place and slapped my face. I'm not sure what stunned me more; her thinking I'd had sex, wanting a doctor to check me, or her slapping me. I stormed off and ran upstairs to my room angry because she had insulted my integrity. For nearly 17 years I'd been able to talk to my mom about anything. All of the sudden I found her doubting me. Not only doubting my word but also the relationship she and I had. That hurt the most.

I sat in my room for an hour angry and hurt. It wasn't until I'd run through my mind the conversation I'd had with Gale that I'd realized why Mom was so upset. She felt I'd betrayed our relationship as well.

She stood in the kitchen staring out the window. Plates, silverware and cups were scattered on the table.

"Mom. I'm sorry I talked back to you. You don't need to make an appointment with the doctor. I promise you I haven't done anything."

"How can I be sure?"

"Because I tell you everything. I was coming into the kitchen to tell you about Gale when I saw you were upset about something."

"Of course I'm upset."

"You don't need to be, Mom. You only heard my side of the conversation."

"That was enough."

"No, it wasn't. You didn't know that Gale and I had gone from talking about her being pregnant to having to hurry to get a book report finished."

"What does a book report have to do with this?"

"Everything, Mom. You heard me tell Gale 'I don't know how you should tell your mom you're pregnant'."

"Yeah and I heard you say 'I'm in the same boat'."

"Yes, Mom, but you didn't hear the part about both of us still needing to read a book for a report that's due next week. So after hearing 'pregnant' and then 'in the same boat,' you assumed I was pregnant too, and I'm not."

"Are you sure?" She adjusted the place settings. Her hands shook.

"Mom. You have to have sex to get pregnant. So yes, I'm sure I'm not pregnant. And yes, I'm sure I haven't had sex."

"Oh honey, I'm so relieved. I don't know how we would have told your dad."

"I'm sorry I mouthed off to you, Mom."

"I'm sorry I slapped you."

* * *

Mom woke up from her nap and came into the laundry room as I finished folding the last basket of clean clothes. Her eyes were as bright as her smile.

"Oh, honey, thank you for doing the laundry. What would I do without you?"

"You're welcome, Mom. Don't worry, you won't ever be without me."

The conversation Mom and I had before her nap had slipped her mind. I marveled as to what might have triggered a memory from so many years ago and I am thankful that was the only disagreement we'd ever had.

We sat in the kitchen, had a cup of tea, and talked about flowers and gardening.

"How's Stacey and Quenton?" she asked.

It was then I realized my daughter's pregnancy and the birth of my grandson sparked her memory of years gone by. I find myself watching her expressions and her eyes to let me know if she has drifted off to reminisce. I wonder how many more trips down memory lane I'll be taking as Mom's mind fades into the past?
Make me smile. Leave a comment...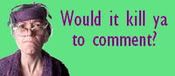 Comment Icon From
Paper Napkin