Week 1 Idol contest. I'm still in the running.
I can't believe I'm still in the running.
Jenna's finalists' announcement below.
Our top 9 finalists for Absolute Write Idol are (in alphabetical order so no one gets paranoid!):
Blue Texas
DJP
firehorse
jdkiggins
pepperlandgirl
Rhush
rhymegirl
trumancoyote
William Haskins
To read my Week 1 entry go
here
.
Title: Life: A Smorgasbord of Crossroads.
Okay, finalists! Congrats on surviving round one. Onto round two...
Your theme this week is:
MISUNDERSTANDINGS.
Show us a conflict that stemmed from a misunderstanding.
Again, any genre, any format.
Length: 1000-1500 words.
(Or, if a poem, 25-40 lines.)
Deadline: Thursday, April 21, 11:59 p.m. Eastern.
Make me smile. Leave a comment...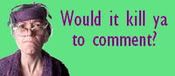 Comment Icon From
Paper Napkin