Voting ends tomorrow at 10 p.m.
There was a mix up in the deadline for voting, so results won't be posted until after Sunday.
So-- the votes have been tallied, and this week we are losing...
Pepperlandgirl
Sorry, Pepper--your entries were consistently wonderful. I hate to see you go. Congratulations on making it this far, and good luck in all you do!
Congratulations to the rest of the finalists, and see you back here for the next round!
Blue Texas
DJP
firehorse
jdkiggins
Rhush
trumancoyote
and
William Haskins
Read my Week 3 entry
here
.
Title: Silly Man.
I can't believe I'm still in this competition!
Make me smile. Leave a comment...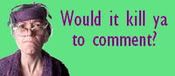 Comment Icon From
Paper Napkin