Working on stories as I wait.
Not much editing work has been done on my manuscript. I've been too busy thinking of stories and pushing myself to write for the contest. One thing for sure – this contest has rejuvenated my creative writing juices. I've put out more words in the past months than I have in the past six months. If I don't make it to the next round, I won't be upset; this competition has been a wonderful boost for me. I've managed to write six new stories and rework four older pieces. Once the contest is over, or I'm eliminated, I'll have plenty of material to submit to publications.
Make me smile. Leave a comment...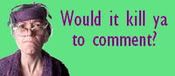 Comment Icon From
Paper Napkin