Week 2 Idol contest. I'm still in!
Week 2 winners announced.
After our sudden death match (and a good voter turnout, I might add), we finally have results for week two.
Congrats to...
Blue Texas
DJP
firehorse
jdkiggins
pepperlandgirl
Rhush
trumancoyote
and
William Haskins
Week 2 here and gone and I'm still in the running.
Read my entry
here
.
Title: Fading Into the Past
Congrats on surviving round 2, finalists!
Your next challenge has arrived.
This round, you have two options for first sentences...
"Only one person in the world knew what I had done, and I intended to keep it that way."
or
"People say you always find what you're looking for when you stop looking."
Choose either one. You have up to 1500 words to finish the story.
Deadline: Wednesday, May 4, 11:59 ET.
Make me smile. Leave a comment...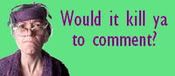 Comment Icon From
Paper Napkin