Idol piece finished.
I spent the day writing my story about Everett L. Gracey. When I realized the slant I was taking with the story, I decided to e-mail him again and request the use of his picture. He graciously gave me permission to use any information from his web site. I completed the story, picture included, and sent it to a writer friend to look over for me. There were a few paragraph placements I wasn't sure about.
Make me smile. Leave a comment...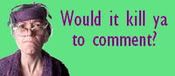 Comment Icon From
Paper Napkin