Idol entry posted. I'm ready to roll on something else.
I received an e-mail from my friend with a few comments and rearranged paragraphs; the same paragraphs I'd questioned. I gladly made the few changes knowing it would be a better read.
I posted my story this evening and I'm off to work on my WIP.
Read my Week 4 entry
here
.
Title:
From One Side of the Tracks to the Other.
Make me smile. Leave a comment...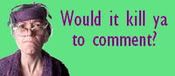 Comment Icon From
Paper Napkin