Absolute Write Idol Crowned
Absolute Write Idol Crowned

August 2, 2005, New York -- The first Absolute Write Idol competition was a smashing success. Modeled after TV phenomenon American Idol, this writers' competition began on March 14, 2005, drawing 308 entries from writers around the world. Judges selected ten finalists, and each week thereafter, finalists produced original work based on a given prompt or theme. In a "jury of their peers" setting, all 3600 members of the forums at www.AbsoluteWrite.com (writers and editors) were invited to vote for their favorite entry each week.

The finalist with the fewest votes was eliminated from the competition after each round, until just one winner remained: Sarah Chauncey, the first Absolute Write Idol.

Sarah wins a prize package that includes the Hollywood Representation Directory; the book Outwitting Writer's Block; subscriptions to www.WritersMarket.com, www.AbsoluteMarkets.com, and www.WinningWriters.com; Web design, domain registration, and hosting courtesy of www.LenoxAveMag.com; and more.

Dedicated voters enjoyed Sarah's versatility; whether writing tragedy or comedy, her style is engaging.

Mimicking the Carrie-and-Bo standoff of last season's American Idol, our second place winner, William Haskins, also drew a strong fan base with his masterful storytelling talent.

Each of our ten finalists proved themselves worthy of their spots, consistently meeting deadlines and producing original, alluring work that often prompted voters to ask, "Where can I read more of this writer's work?"

"That was one of the best parts," says contest organizer Jenna Glatzer, who hoped the contest might open publication doors for the winners. "I loved watching voters become fans, eagerly waiting to see what their favorite writers would come up with next. These are the same people who will look for those writers' books and start the buzz."

Most of our finalists have book manuscripts available or in progress, and all are open to assignments and representation. Please contact the writers if you're interested in seeing their writing samples, manuscripts, or more detailed biographies.

* Winner

Sarah Chauncey is a 20-year veteran of writing for print, television and multimedia. An essayist and entertainment journalist, her topics have ranged from 1980s feminism to star-struck hockey players. Currently she is a film critic for Reel.com.

Chauncey's writing fodder includes her experiences as a theatrical stage manager (Yale School of Drama, Kennedy Center, Berkshire Theater Festival), TV writer/producer (VH1, Comedy Central, MuchMusic, Alliance Atlantis) and ghostwriter for A-list celebrities (sorry, can't tell you who).

Sarah is editing her manuscript GDAT: The Good Daughter Achievement Test, a memoir about traveling with her elderly father, SAT "inventor" Henry Chauncey, an experience she likens to "Tuesdays with a grammatically-obsessed Morrie."

A dual American/Canadian citizen, Chauncey was born in Princeton, New Jersey and currently lives in Toronto. She can be reached at chaunceysk@gmail.com.

****

2nd Place:

William Haskins' work has appeared in small press and literary magazines, including Dark Starr, Pegasus Poetry Review and The Other Voice. Over the past decade, he has written character dialogue for video games and produced and written several documentaries-- most recently serving as story supervisor and producer on the feature-length film Burning Man: Beyond Black Rock. He is currently editing a collection of poetry and working on a novel, while shopping his latest screenplay to agents and producers. William lives with his wife and children in Austin, Texas. Samples, bio and contact information are available at www.poisonpen.net.

****

3rd Place:

Darla Paskell is a writer with big goals and plenty of determination to achieve them. Her first short story will be published in Listen Magazine this fall. She's currently working on Heartprints, her picture book manuscript. She writes children's stories, poetry, and some adult fiction. She loved the entire Absolute Write Idol competition, from the daunting deadlines and crazy camaraderie to the twisting tales and vote validations. She lives and works in small town Saskatchewan, with her supportive husband and adorable daughters. Darla is always eager to tackle new writing projects, and can be reached at djpwriter@yahoo.ca.

****

4th Place:

Kira Connally has been published in two Haunted Encounters anthologies, American Paranormal Pages and Spirit Quest E-zine. Her current projects include several short stories inspired by her entries in this contest, and a supernatural novel. She lives and works in the Fort Worth, Texas area. Kira can be reached at kiraconnally@yahoo.com and has a website at http://www.lovingtwilight.blogspot.com.

****

5th Place:

Joanne D. Kiggins is a monthly columnist for AbsoluteWrite.com. Her work has appeared in The Cleveland Plain Dealer, The Cleveland Press, The Beaver County Times, Woman's Day, Byline Magazine, Writer's Digest, and Moondance.org. Kiggins' current projects include a horror novel, ROADKILL and mystery suspense novel UNEARTHED. Her co-authored romance novel, UNFORGETTABLE JOURNEY, placed fifth in the Grand Beginnings contest. She taught at Slippery Rock University and was 1990 Woman of the Year in Beaver County, Pennsylvania, where she resides. She can be contacted at joannedkiggins@comcast.net.

****

6th Place:

Zach Overline's publishing credit(s) include-- and are limited to-- one robotically curt rejection letter from The New Yorker. His current project, The Housefly Hums in F-Key, is an exercise in Rice Queenery. Discreetly, it deals with homosexuality in Japan, but it plays more overtly with issues regarding family, communication, resignation, dizziness, and the unavoidably necessary loss of important women in one's life. Zach is currently a student at Arizona State University, majoring in both Japanese and Chinese. He can be reached at zoverline@hotmail.com.

****

7th Place:

Becky Rhush is the 2005 winner of the "most promising" Write Spirit Award, a member of the Panhandle Professional Writers, and her story Seeing The Unseen was featured in the spring issue of The Lightning Journal.

Rhush's current projects include several short stories and her fantasy novel, A CHASE OF SECRETS.

"Becky is an up and coming writer who is in the next generation of top authors. Watch out for this one, folks!" - Mark E. Deloy, The Lightning Journal.

Contact her at www.freewebs.com/rhush/index.htm

****

8th Place:

Haley Stokes is a recent graduate of the University of La Verne and is currently pursuing her writing career full time. Writing as Pepper Espinoza, she published her first novel, New Frontier, with Liquid Silver Books, and is scheduled to release her second book with Whiskey Creek Press in May 2006. She writes in several genres, including poetry, short stories, and plays. Her current projects include a completed erotic thriller, Mad World, which she is also adapting into a screenplay. Her website can be found at http://www.pepperespinoza.com and she can be reached at stokesh@gmail.com

****

9th Place:

Kathy Tirrell earned a B. A. in English from Rhode Island College. Her work has appeared in Woman's World, Humpty Dumpty's Magazine, The Providence Journal, and The East Providence Post. Her article, How to be Well Versed When You're Greeting Card Companies is scheduled for publication in the November issue of Writer's Digest.

Tirrell has a completed young adult novel (My Name is Jade and I'm an Uglaholic) and is currently writing Two Women, a work of fiction. Reach her at www.kathryneleetirrell.com or kathy.tirrellATverizon.net.

****

10th Place:

Justin Josephnek Klör practices real estate by day and insanity by night. He is a composer with work featured in the NFMC Parade of American Music and writes Sci-Fi and horror with a touch of the erotic. He can be read in Book of Dark Wisdom, Kopfhalter, and Cthulhu Sex, among others. His chapbook Bloodied Lips is available from Naked Snake Press and his recently completed novel Concrete and Glass was a semi-finalist in the Project Queer Lit competition for subversive writing. Find him online at www.jjkscribe.com.

---

Absolute Write (www.absolutewrite.com) is an online magazine for writers with 75,000 weekly subscribers, founded in 1997. Editor-in-chief Jenna Glatzer is the author of 14 books, including Make a Real Living as a Freelance Writer (Nomad Press, 2004), Fear is No Longer My Reality with Jamie Blyth of the Bachelorette (McGraw-Hill, 2005), and the upcoming authorized biography Celine Dion: For Keeps (Andrews McMeel, 2005). For questions regarding the contest, please contact Jenna through her personal Web site, www.jennaglatzer.com.
Make me smile. Leave a comment...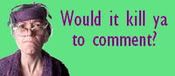 Comment Icon From
Paper Napkin