Too many hopes!
With the deadline to the Idol Entry only a day and a half away, I've been racking my brain to figure out what to write. I have far too many hopes right now floating around in my brain. Having moved in with Mom and this being a week from hell, I can't concentrate. Normally I'd be able to write a creative fiction piece on this subject of Hope, but the juices just don't seem to be flowing. So, I'll follow my heart, as I always do and post what is in my heart. I've decided to write about this past week and hope it will touch the hearts of the voters as it pulled at my heart writing it.
To read my Week 5 Idol Entry click
here
.
Title: Without Hope There Is No Life
I love you, Mom.
Make me smile. Leave a comment...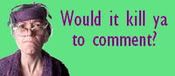 Comment Icon From
Paper Napkin