Sick of politics and racism!
Natural disasters are not racist. They destroy whatever or whomever is in their paths!
In the aftermath of Hurricane Katrina havoc still reigns. There is no room for prejudice after a catastrophe of this nature. What the hell is wrong with the people of our nation?
Yes, there have been many segments shown on TV where "people" are removing items from stores that surely would not be life saving. That happens in just about every country and devastating situation in the world. There's no excuse for that kind of behavior.
BUT, for those who are trying to survive, when after days of living in this filth, and no direction or word of help coming, what choice did they have but to find what was available. Wouldn't you try to find food, water and other necessities for survival?
To
caption pictures
of survival tactics assuming that the blacks are "looting" and the whites are "finding" is not only despicable, it is racist and only adds to stirring a pot of soup that has enough shit already floating in it.
People are people, and when there's nothing being done to help them, of course they are going to help themselves.
Sure Bush visited the areas struck by this horrible storm—after five days. And after he showed his political face, he was once again airborne in the luxurious Air Force One and flown back to his high standard living quarters.
If the AP caption writer, Congress and the President were dropped in this pot of decay, filth and devastation (with no transportation out) I'll bet they'd be the first to gather commodities for survival. The only difference would be, they would use their political rhetoric to explain it away as a humanitarian effort to help. And I don't doubt they'd be just as, if not more, disgruntled over the delay in action.
I'm sick of racism and politics.
Make me smile. Leave a comment...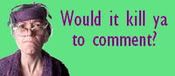 Comment Icon From
Paper Napkin