"Haunted" Historic Inn to be made into Synagogue.
Orthodox Jews Transforming Haunted Historic Building into Synagogue.
I think Rabbi Shraga Sherman has a
wonderful plan
for the historic General Wayne Inn. I had the pleasure of seeing this wonderful building in the mid 1980s. The Inn's décor was absolutely beautiful inside. The food was delicious, but I wasn't given the opportunity for a ghostly experience during my visit. Darn!
SJGR (South Jersey Ghost Research) used the Inn as part of their ghost research. If I'm not mistaken, it was also featured in a segment on Unsolved Mysteries.
The Inn has been closed for three years now, and the idea of it being transformed into a synagogue, Jewish community center and kosher restaurant is delightful. No, I'm not Jewish, but I have many friends who are. Sounds like a great place to meet for lunch one day.
Make me smile. Leave a comment...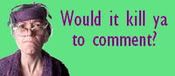 Comment Icon From
Paper Napkin