Bob Denver, Gilligan, died Friday, at age 70.
I grew up watching
Bob Denver
in "Gilligan's Island" and "Dobie Gillis."
Bob Denver was a wonderful actor who brought laughter into our household.
It's sad to know he's gone. My sympathies to his wife, Dreama, and his children Patrick, Megan, Emily and Colin.
Make me smile. Leave a comment...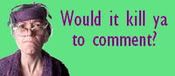 Comment Icon From
Paper Napkin