My daughter made my day.
My oldest daughter called this morning at 7:30. She never calls me that early, so I thought something was wrong. Instead, she made my day. She told me she is pregnant.
Woo Hoo!! I'm going to be a grandma again! This is her first and we're all quite excited because she's been trying for quite awhile. This will be my third grandchild. Boy am I getting old.
Make me smile. Leave a comment...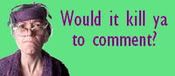 Comment Icon From
Paper Napkin