Perseverance essay made anthology cut.
I PM'd Jenna today to ask if my essay Perseverance will be in the Absolute Write Stories of Strength Anthology. She said, "Indeed, it will be in the anthology." I was even more pleased to find the editor assigned to my essay saw no need for revisions. Woo Hoo!

It's an honor to have my essay placed in an anthology for such a worthy cause. Detail coming soon. I'll post here and on my website how to purchase the book. All proceeds go to the Red Cross for the relief effort of Hurricane Katrina victims.
Make me smile. Leave a comment...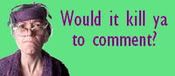 Comment Icon From
Paper Napkin