NaNoWriMo Report
Hi everyone! I've been writing my fool head off. I mentioned that I'd joined the National Novel Writing Month competition.
NaNoWriMo
is a competition where writers all over the world challenge themselves to write at least 50,000 words in a month. With that in mind, each writer should have a 1667 daily goal in order to complete and win the competition. I've chosen to work diligently at writing my horror novel Unearthed. I had 19 pages of notes collecting dust in a file folder. Now the story is unfolding.
I once spent all day and half the night at my computer and my daily word count averaged anywhere from 2,000 to 6,500 words a day. My goal each day was to write at least 2,000 words, and normally I hit that goal.
Life has taken a few twists and turns and added a few challenges other than writing competitions, so my writing time is limited. I sneak in writing time between 5:00-9:00 a.m. and again from 10:00 p.m. to 2:00 a.m. to get my words either on paper or on the screen.
Writing is my life, but as I take care of Mom, I'm finding out that my life and my writing will sometimes wait. She is the center of my life at the moment and when the time comes, I know my life and my writing will flourish once more. What I write during this time is simply practice for the future.
The NaNoWriMo competition began Tuesday, November 1.
Here's my report so far.
November 1, 2005 – 1622 words
November 2, 2005 – 1753 words
November 3, 2005 – 1790 words
November 4, 2005 – 190 words
November 5, 2005 – 0 words
As you can see, I have a lot of catching up to do. Just for the first five days I'm behind 2980 words. With that in mind I must write at least 4,700 words by midnight tomorrow. But that's okay. I know I'll make my 50,000-word goal or more before the end of November.
How are all you other NaNoer's doing?
Make me smile. Leave a comment...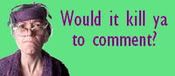 Comment Icon From
Paper Napkin