Thank you, Jill and Dawno.
I received my daily e-mail from Jill's blog today and noticed her subscription had been changed to
Feedblitz
. What a great subscription feature. You find such great helpful things, Jill. Of course I had to add it to my blog. Thanks.
Also, thanks to Dawno, while reading her blog, I saw she had a link for a
site meter
, so of course I added one to mine. I also subscribed to Dawno's blog. I had added her blog link to my site about a week ago and have been reading her blog, but now I'm subscribed. Thanks for the link, Dawno.
You gals are getting great at adding new and interesting, whatchamacallits to your blogs. Now if I can just figure out how to get a weather channel up. ((scratches head.)) I'll figure it out tomorrow. On my way to watch another horror movie.
Make me smile. Leave a comment...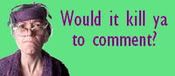 Comment Icon From
Paper Napkin