Everett L. Gracey--A truly kind man. Author, Publisher and Entrepreneur
Today I just got around to opening my e-mail after four days and found that my inbox was loaded with 135 e-mails. It didn't take long to delete all the spam and send to folders what I wanted to save.
Before I'd attemped sorting out any of the mail, I spotted an e-mail that required immediate attention. The name of the sender was Everett L. Gracey. I'm sure you remember him from me speaking of my article entry,
From One Side of the Tracks To the Other
, in the Absolute Write Idol contest. It spoke of his book entitled, From a 13 year old Hobo to an Entrepreneur.
Not only was I flattered that Mr. Gracey e-mailed me, I was also honored that he'd placed a link on his website to my site and my blog.
As I stated in the article I'd written, Everett L. Gracey will always hold a special place in my heart.
If you find time, please visit
Everett L. Gracey's site
and purchase his book. I'm sure you'll find the touching story of his life will hold a place in your heart as he does in mine.
Make me smile. Leave a comment...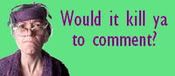 Comment Icon From
Paper Napkin