1st Place in Week Four KIA marathon
I nearly fainted when I opened the thread at RWAOnline to read the winners of week four of the marathon. Our Nookie Ninja team took first place. Woo Hoo! I was even more shocked to see that I'd managed to win first place title for Individual writers. Hey all you romance writers out there, if you're looking for a site packed full of information about romance writing,
RWAOnline
is the place to be.
Another competition complete, now I'm ready to roll for the
NaNoWriMo
!
Part Time Week Four Individual Winners
With a total of 238 points Joanne Kiggins from the Nookie Ninjas
With a total of 126 points Judy Soifer from the Ladies of Legend
With a total of 118 points Stacy Brutger from the Historical Hotties
Part Time Week Four Team Winners
Nookie Ninjas (with an average of 111 pages)
Chick Litters (with an average of 58.6 pages)
Historical Hotties (with an average of 57.5 pages)
The KIA Marathon is an annual writing marathon named after and held in honor of Kia Cochran, a RWA member and author of contemporary romance.
Just prior to her death, she'd turned her hand to attempting mystery romances. She passed away in August of 2000, but she left a memory of her caring and a reminder that the most important thing a writer can do is tell a story that will touch the readers' hearts.
Make me smile. Leave a comment...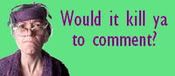 Comment Icon From
Paper Napkin