Bringing Christmas Back Home
I just realized I haven't posted much in the past two weeks. Guess I was more wrapped up in regaining the Christmas spirit than I'd thought. I believe one's environment can make all the difference in the world in attitude and emotion. I'm a sentimental fool. I've been doing my best to lift Mom's spirits and bring back the old ways my mom and dad celebrated the holidays. Everyone used to come home, to the homestead, to visit Mom and Dad, exchange gifts, and sit around the antique dining room table for dinner. There used to be a lot of chatter, and laughing, and reminiscing. After Dad passed away, that "coming home" got lost. I continued to visit with Mom on Christmas in her home, and then took her to my house for dinner. Others invited her to their homes rather than visit her in hers. She quit putting up the larger tree and purchased a tabletop tree for her end table in her living room. No one ever saw it but her and me and my daughters when they visited her. And on occasion, my one brother. Some years I had to dig out the small tree and put it up myself because she had no interest. It was no wonder…no one came anymore. "What's the sense?" she would ask.

Everyone's life has changed but it's a shame some have become too busy and wrapped up in their own activities to make that extra effort that means so much. My daughters, Angel and Stacey, and I have always been a constant in Mom's life. Regardless of what was going on, or where we lived, we always made it home for Christmas.

This year, the old ways are coming home. I've extended the "come home" for Christmas to the entire family.

My oldest daughter, Angel, came in for Thanksgiving and spent several hours visiting with Mom and me. On Friday, my tree, ornaments, and decorations were moved from my basement to Mom's house. On Saturday, Angel came and spent the entire day helping me decorate the tree and living room. We didn't place the tree in the corner where Dad used to; we moved Dad's chair and placed the tree in honor of him; where he used to sit. The tree represents his presence and the good old days.

Mom used a half roll of film taking pictures while Angel and I trimmed that tree. Her eyes glistened and constant creases of a smile stretched upward as she watched the ornaments being hung. Very few ornaments are store bought. Many are ones she and I made together when she had a ceramic business. Others are ones she'd taken time to make for each member of the family.

Once the tree was completely trimmed we turned on the lights. The smile on Mom's face as she watched the lights sparkle was worth the extra effort! "That's a beautiful tree!" she said.

Every day since we set up the tree Mom walks into the living room and sits in her chair. She scans the tree from top to bottom and smiles. And every day she says, "That's a beautiful tree."

Each day she points to several ornaments and comments on their beauty. When I tell her she made them, I see a sense of pride and accomplishment on her face. She giggles when she says, "Wow, I made that. I must have been pretty smart." I answer, "You still are, Mom."

Yesterday I placed the nativity beneath the tree. It is the bright colored ceramic nativity I'd painted while Mom painted her set in pearl colors. We scratched the year on the bottom of the green ware set before it went into the kiln. That was 30 years ago.

Last night as we sat in the living room, feeling the warmth of the flames from the fire in the fireplace my dad built, she said, "Thank you. That's the most beautiful tree we've ever had in this house."

I can't tell what's on Mom's mind anymore like I used to, but I know that bringing Christmas back home is the best present I could give her this year.

Merry Christmas, Mom. I love you.
Make me smile. Leave a comment...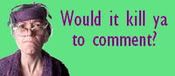 Comment Icon From
Paper Napkin