"Bringing Christmas Home" Pictures
It took me a little longer to get the pictures from Christmas developed. Since I told everyone I was "Bringing Christmas Home" for Mom this year, I thought I'd share the family pictures. My oldest daughter Angel and her husband Tim drove in from near Harrisburg to celebrate Christmas day with Mom and I, and my daughter, Stacey drove up from Alabama with my grandchildren in tow. I finally got to see my grandson for the first time. He's almost nine months old.
1. Angel, Tim and Mom.
2. Stacey, baby Quenton, Trinity and Mom.
3. All together again.
4. My daughters, my grandchildren, Mom and me.
5. Me, Mom and Two Feather, who never fails to make Mom smile.
Everyone took turns coming to visit Mom the days before Christmas. The whole group pictured above came to Mom's for Christmas dinner. They visited for a bit before dinner and after dinner my girls helped clean up and left because Mom was getting tired.
Make me smile. Leave a comment...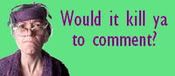 Comment Icon From
Paper Napkin