AW Monday Meme #4
Dawno
posted the first Meme of 2006AW Monday Meme #4 on her blog and at
Absolute Write
.
Thank you, Dawno.
So here it is:
Hiya and welcome to the first Monday Meme of 2006.
One of the things memes can do is give us some insight into who each other are. There are a number of folks who have posted a "100 Things" meme that went around a while back. You can learn a lot about folks reading those. I won't ask you for that one (today). But I have ten questions for you to answer so we can get a glimpse
1. What is your most hated and dreaded household chore. Why?
Spring cleaning because it takes me until fall when I start my fall cleaning. ;)
2. Do you ever drink out of the beverage container or always pour a glass?
I drink coffee and tea in a cup and pop right out of the can.
3. Over the counter pain relief: Asprin, acetominiphen or ibuprophen? (if those aren't your options, what are?)
I don't take any over the counter pain reliefs. They would conflict with my prescribed medications.
4. What was the first car (or motorcycle if that's the case) you bought for yourself?
The very first car I bought was a little red Chevy Nova convertible.
5. It's a lovely, sunny weekend day. What would you go do if you could do whatever you wanted to do (within your usual means).
Spend the day by the soothing, rippling water of the Oconaluftee River, North Carolina. If that isn't possible, then a day by any body of water.
6. Name your favorite board game.
Monopoly
7. How many blankets do you sleep under and how many pillows do you use?
No pillows since my neck surgery. A sheet in the summer and one mink blanket in winter.
8. How many pets and of what type do you currently live with? You may name them if you wish.
Currently, I live with my mom's poodle and cat. At my house there are two cats, a wolf and and a Maltese.
9. Biggest grammar peeve.
Having had to learn grammar again and still need to look up the grammar rules.
10. Favorite flower or other plant, should you not be into flowers.
Blue Moon Rose.
Simple, huh? As always, the AWMonday Meme tag is appreciated. You can find the html for the tag by going to the
Monday Meme thread
.
Don't forget to add the
tag
and do the
ping
thing on Technorati when you're done.
AWMondayMemes
,
jdkiggins
Make me smile. Leave a comment...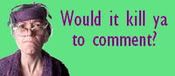 Comment Icon From
Paper Napkin