Resolutions, Rejections, and Regrouping
RESOLUTIONS: In my attempt to clear up unfinished projects I decided not to make any New Year's resolutions. That's nothing new, really. I've never been big on resolutions, probably because, to me, nothing ever seems to be resolved or have closure. And just when I fool myself into thinking it does, a new problem arises that needs a solution. I live day-by-day solving problems as I stumble through life. I've lost all sense of organization. It's my own fault, really. I didn't move my entire writing office from my house to my mom's. Had I rearranged my old bedroom in the homestead to fit my needs for my profession, I wouldn't have this problem. I'd have what I need at my fingertips as I always have and I'd accomplish more. Instead, I chose to bring only the bare essentials, as to not make Mom uncomfortable, and my writing has suffered for that. There will be no long lists of things I plan to do for 2006. I have few goals; the main goal is to take care of Mom. My writing will always be there, later, waiting for me to gently wipe off the dust and start again.
REJECTIONS: I have, on the other hand, decided to make a pledge. Barb at Absolute Write has challenged everyone to take the
2006 Rejection Pledge
. You can't get published if you don't submit. The idea is to pledge submissions for the year and show the rejections in comparison to the submission. In more than 30 years of writing I never thought there'd be a day when I had to set a goal, or take a pledge, or feel as if submitting my writing would be a challenge. At one time, I had no fewer than 10 submissions per week and more than that number published weekly. But the day of challenging myself has come and passed. I took the pledge for the sake of holding onto my interest in writing. I offered a mere number of 52. That's only one submission per week, and I'll be pressing to make that goal. Writing still is my life; it's just been placed on the back burner, on a very low heat, waiting for the pot to boil. One day, when my time comes, I'll add all the ingredients and there will be a whole pot of stew waiting to be devoured.
REGROUPING: Regrouping has been my biggest setback. I don't have all the tools, books, files and notes handily accessible as I did in my own home. Everything is scattered in a disarray of piles and boxes. Some things are here and others are still at my house. No longer am I able to walk to my file cabinet and pick out the exact file of notes I knew was in the same place for 25 years. No longer am I able to reach to my bookshelf and pluck the reference book needed at the moment. Nothing is where I need it, when I need it. And I don't have the advantage of moving all my files, bookcases, and equipment to a room that is already filled with furniture. So I've regrouped, placing file folders in boxes, essential references books stacked in neat piles, and hope I don't stumble when walking between the makeshift computer stand, the card table, and piles of books and boxes.
So there you have it. A once weekly published author with more than 2,500 published articles (stacked in more boxes) now sits in her old childhood bedroom, staring out the window, wondering if I'll ever make that goal of one submission per week and continue my monthly column. No, I'm not giving up; I'm simply resolved to the fact that my entire life has changed. I'll write when I can. One day, I'll be able to regroup and reconstruct my office in the organized fashion I've been accustomed to all these years. But I'm in no hurry for that.
With that said, my yearly goal is to complete the edit on my manuscript Roadkill, write a synopsis, and have it submitted to a publisher before the end of 2006. Anything I manage to accomplish in between will give me the satisfaction that I'm still able to multitask when there is no time in the day to do anything.
You can't publish if you don't submit. Take The 2006 Rejection Pledge
I took the pledge: 0/52
Status of editing Roadkill: 80/480 400 pages and a synopsis to go!
Resolutionss
,
Rejections
,
Regrouping
,
jdkiggins
Make me smile. Leave a comment...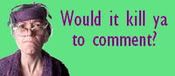 Comment Icon From
Paper Napkin