AW Monday Meme #6 -- Recipe Meme
Recipe Meme
Dawno
put up a great recipe meme for this week.
Here it is.
Open your refrigerator. What is the first item on the left at the front of the 'fridge on the top shelf?
Open the food cupboard closest to the stove. What is the first food item on the right on the bottom shelf (you may go up a shelf if your bottom shelf holds pet food or non-food stuff)
Find online or create for us from your imagination, a recipe using those two things as primary ingredients.
For example: fridge: Snapple diet lemon iced tea
cupboard: rice
If you Google (or use any search engine) for the recipe, please share the link in your blog and here's the Technorati Tag, too.
Here's mine.
Fridge: 1# pack of Jimmy Dean pork sausage.
Cupboard: bag of wide noodles.
I googled Jimmy Dean sausage and noodles and found
this link
with this great recipe.
CAVATINI CASSEROLE
1 lb. Jimmy Dean sausage with sage1 (3 1/2 oz.) pkg. pepperoni1 (32 oz.) spaghetti sauce1 pkg. Italian seasoning (salad dressing)Egg noodles2 c. Mozzarella cheeseBrown sausage (drain). Lay all ingredients except cheese in 9 x 12 inch pan. Noodles in last, stir in pan. Sprinkle cheese on top. Cook at 400 degrees for 15 to 20 minutes.
Sounds so good, I'm going to try it out tomorrow morning.
Thanks Dawno. I needed new ideas for meals.
AWMondayMemes
,
jdkiggins
Make me smile. Leave a comment...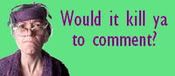 Comment Icon From
Paper Napkin