BlogCritics * Hot Topics * Frey's Fraud
Looks like
BlogCritics
is going to be a great place to post my reviews and opinions. If they really like what you've posted they send it out to Advance.net where other online publications pick up your post and place it on their site.
My review of Ray's book was picked up by
Nola.com
,
nj.com
,
pennlive.com
,
mlive.com
, and
masslive.com
It's also listed as a
Hot Topic
today.
My review of Jenna's book
The Street Smart Writer
is on BlogCritics as well.
And I just posted an opinion piece entitled
Frey's Fraud—The Truth Does Matter
.
ETA: Seems since I posted this blog, my post about Frey's Fraud had become a hot topic as well. ;)
The Pacific Between
,
Raymond Wong
,
contemporary fiction
,
Jenna Glatzer
,
Reference/Writing Resource
,
The Street Smart Writer
Book Review
,
Frey
,
jdkiggins
Make me smile. Leave a comment...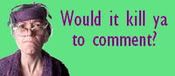 Comment Icon From
Paper Napkin