Superhero—me? I don't think so!
My friends,
Ray
,
Jill
, and
Mac
, had this superhero test on his blog. I can't resist these things. I get suckered in every time. :) As with all these tests: I think they lie. LOL And I wonder what the remaining 30% of me might be?
Your results:
You are
Supergirl 70%

Lean, muscular and feminine.
Honest and a defender of the innocent.



Click here to take the Superhero Personality Quiz
Make me smile. Leave a comment...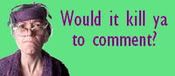 Comment Icon From Paper Napkin