Plugging A Few of My Friends
I've taken the morning and most of the day to visit my friend's blogs and found some very interesting sites and realisms about my blogger friends. The more I read everyone's posts, the more in touch with the person writing them I become.
Take for instance,
Mac
. I've learned that she not only has a wonderful sense of humor, but also an investigative type personality. She's always digging deep into her own mind and searching the net to explain her thoughts.
There's
Jill
, who does a wonderful job at tracking down all the politicians in Ohio. She's got the mind to step up to the plate, too.
We can't forget
Ray
. He's a great guy and is doing very well promoting his recently released novel
The Pacific Between
.
And there's Natalie Bennett's blog
Philobiblon
where I just found she'd mentioned my blog about animals and her recent post where she's
boycotting anti-feminists
.
Emeraldcite
has an interesting blog as well. And of course, I had to take the
color quiz
. Yes, I got suckered into this quiz, too. And as I told Emerald, I was hoping it would paint a picture of great things. Instead, it colored me to a T. Half-baked, too trusting, and a danger to no one but myself. ROFL
Jason
always has great stories and pictures on his blog. I love the peacefulness of his posts. No pun intended. Honest.
One of the things I like best about
Mark
is that he gets straight to the point. He doesn't mess around when it comes to writing what he thinks. Love your blog, Mark.
I was quite shocked to see
Jeff
writing romance. He's quite good at it, too.
Just wanted you all to know I think you're great!
I'll plug a few more friends after my break. Right now, I really need to get back to my writing.
Mac
,
Jill
,
Ray
,
Natalie
,
Emerald
,
Jason
,
Mark
,
Jeff
,
jdkiggins
Make me smile. Leave a comment...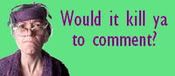 Comment Icon From
Paper Napkin