Poetry, Browning, Jonson and Kira
Kira
always makes me reach into the deep recesses of my mind and gets the wheels turning. She decided to memorize a poem a week and asked, "What's your favorite poem? What speaks to you? What did it kill you to memorize in school? What poems make you laugh (no, "there once was a man from Nantuckets, please)?."
She reminded me of the Elizabeth Barrett Browning Sonnet 43 we were forced to memorize, stand in front of class, and recite.
How Do I Love Thee?
How do I love thee? Let me count the ways.
I love thee to the depth and breadth and height
My sould can reach, when feeling out of sight
For the ends of Being and ideal Grace.
I love thee to the level of every day's
Most quiet need, by sun and candlelight.
I love thee freely, as men strive for Right;
I love thee purely, as they turn from Praise.
I love thee with the passion put to use
In my old griefs, and with my childhood's faith.
I love thee with a love I seemed to lose
With my lost saints--I love thee with the breath,
Smiles, tears, of all my life!--and, if God choose,
I shall but love thee better after death.
~Elizabeth Barrett Browning
I still have the purple mimeographed copy that was passed out in the classroom. The sonnet is etched in my brain. I didn't need the copy to print it here.
I'm still not sure what makes a poem speak to me or which is my favorite. There is this one poem I read years ago and I even remembered what book I'd read it from. It's from the book Adventures in English Literature and it's in The Late Middle Ages and the Renaissance section.
This poem below was written by Ben Jonson. (1572-1637)
He was a bricklayer and ended up being one of the most dramatic writers in theater. Most of his works have a keen sense of human nature with a satirical rather than sympathetic voice. His bricklaying experience came in handy when writing: he laid out words, one at a time.
The Noble Nature
IT is not growing like a tree
In bulk, doth make man better be;
Or standing long an oak, three hundred year,
To fall a log at last, dry, bald, and sear:
A lily of a day
Is fairer far in May,
Although it fall and die that night,--
It was the plant and flower of Light.
In small proportions we just beauties see;
And in short measures life may perfect be.
~Ben Jonson
Kira
,
Poetry
,
Browning
,
Jonson
,
jdkiggins
Make me smile. Leave a comment...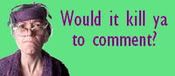 Comment Icon From
Paper Napkin