Grandma Shakespeare Kiggins and the Apple Peel Contest
Grandma Shakespeare Kiggins (my dad's mom) and I used to have apple-peeling contests. No it wasn't a contest to see who could peel the most apples in the shortest amount of time. It was a contest to see who could peel an apple keeping the peel all in one piece.
It's been a long time since I tried this; Grandma's been gone more than 30 years. In her honor, I thought I'd give it a try for old time sake. I'm sure she's smiling her "that's my girl" smile as she watched me attempt the feat. After 30+ years, I can still peel an apple in one long piece.
Just one of the many crazy little things I'm still capable of doing. I guess this pretty much shows everyone that I am a country girl and my life as a child was pretty boring. Still is, in fact.
How many of you can peel an apple without breaking the peel?
Grandma Shakespeare
,
Apple Peel Contest
,
jdkiggins
Make me smile. Leave a comment...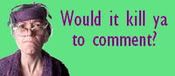 Comment Icon From
Paper Napkin