Four-Leaf Clover and Peacock Eye Feather
I've been on sort of a nostalgia kick lately. Thinking about my grandma and the little things we used to do to keep busy during the day, made me dig into my wallet and pull out a few pieces of memorabilia.
When Grandma and I were tired of peeling apples, we used to get down on our hands and knees and search the yard for four-leaf clovers. There used to be clover everywhere in the front yard, but it seems to have died out over the years. We did find four-leaf clovers, though. And big ones.
Here's one that I wrapped in wax paper and slipped into a plastic photo sleeve. I've been carrying this in my wallet for more than 30 years. Can't say that it has brought me much luck though.
Here's another little piece of time I laminated and kept in my wallet. I was three years old when we took a trip to New York. We went to the New York zoo. Yes, I actually remember the trip! I saved this peacock eye feather I found outside the peacock fence. It's 50 years old, and I've been carrying it in my wallet next to the four-leaf clover.
Grandma
,
Four-Leaf Clover
,
Peacock Eye Feather
,
jdkiggins
Make me smile. Leave a comment...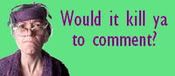 Comment Icon From
Paper Napkin