Update! May, Week One.
Oh, and I forgot to mention that my daughter Angel's little April Fool's joke of going into labor two months before her due date of May 23 did sort of backfire on her. Two weeks after her little joke, she began having contractions…and I got a call from Tim at 5:30 in the morning telling me they were on the way to the hospital…false alarm. Though I really, (honestly honey) didn't wish it on her, she continued to have false labor throughout the month of April and into May.

Of course during all the running, packing, scurrying, directing, worrying about Angel, and everyday pulling my hair out, I failed to mention the tiny things that just make one's day—like the showerhead at my house springing a slow leak, which turned into a fast leak, which needed an immediate call to a plumber because the water suddenly just dripped. The plumber, luckily, was able to come out within the hour, replaced what was supposed to be a gasket in the shower handle, which controls the showerhead, and the well eventually filled back up to where there was water in the house again.

Then, there was the garage door opener that decided it was tired of going up and down. It stopped midway and stuck, SOLID. Wouldn't budge. The garage door repairman came the same day and replaced the worn and shredded gear.

Oh, and I forgot to mention that I'd ordered mulch for my mom's flower beds the day before my uncle went into the hospital and it was sitting for two weeks getting water logged by all downpours of rain.

And the Kawasaki Mule hitch pin that slipped out of the hole unnoticed, until it was time to mow and we realized the hitch was missing, hence taking Two Feather a day of traipsing through the woods on all his trails trying to find the hitch and pin to hook up the wagon. Yes, he did find it, covered in mud and sticking out of a mud hole filled with water from 10 straight days of rain.

Yes, let's not forget the push lawn mower that spit fire and smoke and finally died just before the lawn was completely mowed and…well never mind, I think you have an idea of what the first week of May was like. All this while I'm trying to get things packed and ready to leave to visit my daughter, Angel, for her graduation from law school on the 13th.

It gets better!
Make me smile. Leave a comment...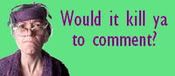 Comment Icon From
Paper Napkin