Update!! Where Do I Begin?
It's been toooooo long!

I can't believe it's been two months since I've posted anything online. Good grief, where did the time go? I suppose that's what I'm here to do…give all my friends the lowdown or, in other words, an update on what's kept me away.

First I'd like to thank all of you for your comments, e-mails, greeting cards, and snail mail letters, and for keeping me in your thoughts and checking on me. All of you are most appreciated. Each and every one of you brightened my days, made me smile, and reinforced my thoughts that there are truly wonderful people in this world. Thank you!!

April and May, at the time, seemed to move by at snail-like speed, but now that they're past it seems they went by quickly. Where do I begin?

I suppose I should begin where I left off—at the beginning of April. Most of you know that I take care of my mom, but I don't believe I had mentioned anything in my March posts about my uncle. Since last July, I'd also been running to Pittsburgh to take my Uncle Joe to doctor's appointments and tests. As a result of those tests, I was running to Pittsburgh to help my uncle in March and April, taking him groceries and cleaning for him, during the few days that I take my mom to Adult Day Care. I won't go into his health and personal details here, but by the end of April, he ended up in the hospital and needed to be transferred to a nursing home. I spent the entire last week of April scurrying to make arrangements to move his belongings and clean his apartment. I thank the Creator for my significant other, Two Feather, being in my life, because it was he and his son who moved everything into the U-Haul as I stood directing. I'm not able to lift anything, so the only thing I was good for was pointing and driving.

"You can't take care of me, too, Joanne," my uncle said. "You have your hands full with your mother. You're doing the best thing for me."

His words were trying to comfort me because he knew if there were any way possible I would have pushed myself to the limit to try to take care of him too. It breaks my heart that I can't do for him what I'm doing for my mom, but there is a limit in what one person can do. I think I'm finally learning that.

Had it not been for Two Feather, his devotion to me, and his respect for those I love, I would not have been able to accomplish what needed done in this situation. There truly are no words to express the respect I have for a man who needs to do nothing, but gives his all when it comes to my loved ones and me.

So ends the month of April and leads me into another month of which disappeared quicker than it came.
Make me smile. Leave a comment...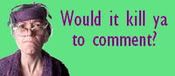 Comment Icon From
Paper Napkin