The Absolute Write Community
Has been treated ABSOLUTELY WRONG!!!
As usual, I'm several days/weeks late when something happens that is of true importance to me, but that never holds me back from voicing my opinion. There was an intruder in my home. Yes, the
AbsoluteWrite website
is my home away from home, and I was very displeased to find out that just as I'm able to find time to get back online, my home had been vandalized. During the time I was away from my computer and busy with real life, the Absolute Write website was trashed…in more ways than one.
I met
Jenna Glatzer
online years ago when she began her newsletter and have been a member of her writing community for years. There is no better place for writers to gather to discuss the business, share ideas, and have fun in the various forums in the community.
AbsoluteWrite
has been "THE" place to meet for years and the place for fledgling, experienced, and professional writers to share and learn as well. Who in the world could possibly think they have enough power to disrupt, demolish, or otherwise desecrate such a caring, sharing, and committed group as those 7,000 + members of
AbsoluteWrite
?
Who indeed? It seems one
Barbara Bauer Ph.D.
didn't like the idea of being named as one of the 20 worst literary agents by Writer Beware. She, flaunted her formal Ph.D., and complained to JC-Hosting (AbsoluteWrite's hosting company at the time) that she felt listing her email address on a message board was reason for the hosting company to close down AbsoluteWrite. Not only did JC-Hosting shut down the site, they held the entire database hostage, which has become a legal battle. Here's what
Jenna
has to say. It seems this is not the first time that
Miss Barbara Bauer Ph.D.
has tried to
shut down sites
.
I've always said I trust someone until they give me reason not to. I've also found that is not a good path to follow. I've become more and more skeptical these past two years, and sometimes become angry with myself because I fall back into that trusting pattern rather than follow my heart. When I follow my heart, it never leads me in the wrong direction.
I can't even find the words to describe how disappointed I am in JC-Hosting, owned and operated by Stephanie and James Cordray, for their actions. I find it disheartening that I don't follow my instincts sometimes and trust people too easily. Those people whom I'd congratulated not that long ago for helping
Jenna Glatzer
get her website up and running when her old hosting company was unable to perform to the standards needed, are those same people who had taken the liberty to shut down the AbsoluteWrite website with only an hour's notice, hold the database hostage and treat what "they" once called true "friends" like a bag of trash they can throw in a Dumpster when the contents have served their purpose. Why? Was it fear that the
#3 worst literary agency
, Ph.D. flaunting bully might bring action against them for something she had no legal means to do? Or was it because what some are suspecting; that the Cordray's decided to open their own little site and message board (of which I'll not link) and try to manipulate and completely disorganize a perfectly functioning community of writers in order to benefit themselves? I'm not here to judge or to answer either of these questions. I'll simply add the JC-Hosting Company, Stephanie and James Cordray and
Barbara Bauer
to the very long list of those I WILL NEVER TRUST AGAIN!
Moondancer, Stephanie, JC-Hosting, WriteWise, whatever you may want to call yourself, you have in the past e-mailed me about personal situations in your life and I responded as a caring individual and friend. I'd hoped that my concern for you and your health had made each day you'd suffered just a bit easier to get through. I was and am truly sorry that you'd had health issues, but due to the recent circumstances, I must say now, this must do your heart proud! I'm still sickened by the fact that someone with an ill heart can try to break so many other's.
My deepest appreciation to all those faithful members of AW, the Mods, the Administration and all involved in saving the community from such horrific online terrorism and repugnance. Cheers to you all for your hard work and continued support and your faithful determination to keep AbsoluteWrite the sharing, caring and ABSOLUTE worthwhile community it has always been and always will be.
ABSOLUTE WRITE
's community and spirit CAN NOT be broken! And to prove it, the membership is nearly 8,000. AW ROCKS!!!!
20 Worst Literary Agencies
,
Barbara Bauer
,
AbsoluteWrite
,
Jenna Glazter
,
jdkiggins
Make me smile. Leave a comment...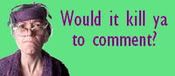 Comment Icon From
Paper Napkin