Yard Work and Sprucing Up the Yard
During my absence at AW and my blog, and in between all my other running I've discussed lately, I've been trying to weed, clean, prune and otherwise spruce up my mom's yard to give us both something nice to look at besides weeds.
Here's the before picture of the barn area.
I won't begin to tell you how many scratches I have from the thorn bushes. They're gone now! We fixed the concrete block wall that had fallen down and had topsoil brought in.
Now I'm waiting for the wildflowers to bloom, so I know which plants are flowers and which are weeds that poked through the ground.
This is the front of Mom's house after I weeded and before I put mulch in. There's a bed on each side of the porch, but I'll just show this one.
The old wagon wheel had "almost" seen better days. Its spokes were falling out and the old paint was peeling off.
With a bit of wire and a bucket of paint, the old wagon wheel doesn't look so bad now. After weeding, we spread mulch in the bed. What a difference a lot of hard work makes, huh!
Can't forget to show you the flowers in the donkey planter.
I forgot to take a picture of the flowerbed in the center of the circular driveway before I started. Here's what it looked like after the pruning, weeding, planting and mulching.
I've been adding flowers here and there.
Here's what it looks like now.
We bought mini roses for Mom on Mother's Day, so I planted them in the new and improved flowerbed. Here's the pink and yellow mini roses I planted in front. They're doing great in this mulch.
So now you know what I do on beautiful days when I'm not writing in my blog, working on my column, writing book reviews or taking pictures of wildlife.
Mom loves sitting on the porch and looking out at her flowerbeds now.
Make me smile. Leave a comment...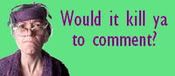 Comment Icon From
Paper Napkin