Support Absolute Write
The writing community of
AbsoluteWrite
stands strong!
I'm sure by now you're all aware of the unfortunate circumstances that had more than 7,000 writers forced to go to a refugee camp awaiting the return of the AbsoluteWrite forums.
If not, scroll down to the post below and you'll be able to read some of the details.
During the time of confusion, I was dealing with other matters, but I'm back and will now do everything in my power to help Jenna Glatzer and the AbsoluteWrite community recoup from this horrific debacle.
Those who would like to help, please add a support button to your website or blog.
Thanks to
Matt
you can get your very own button to show your support. Click on it and purchase
The Street Smart Writer
by Jenna Glatzer and help support Absolute Write. Here's the code—just replace the [] brackets with <>these.
[a href="http://www.amazon.com/exec/obidos/ASIN/0974934445/
absolutewrite" target="new" title="Get your copy of The Street Smart Writer and support AW, too!"][img src="http://www.mattdinniman.com/aw2.gif" mce_src="http://www.mattdinniman.com/aw2.gif" /][/a]
Cheers to
Kira
and her wonderful support of Jenna throughout her blog and adding more than
100 links of bloggers
who are talking about the Barbara Bauer Ph.D BS.
Please read
Jenna's blog
and if you haven't yet donated and do what you can.
Dawno
is passing the word and helping out as much as she can. Plus, she has the
CafePress Store
where you can purchase all sorts of neat things to support AW.
Mac's
great! I just love her
resounding support
for Absolute Write.
I may be a bit late, but I'll be adding my support button and a CafePress button to my blog and website as soon as I publish this blog. I already own Jenna's book,
The Street Smart Writer
(which by the way I highly recommend) but I'll be shopping at the CafePress soon to give my support.
If you'd like, you can also make a donation
here
.
HA!
Barbara Bauer Ph.D. has been Wikipedia'd!!!!!
Bet she never thought she'd get soooooo much attention. Bet she now wishes she hadn't.
See you all at the Cooler!
20 Worst Literary Agencies
,
Barbara Bauer
,
AbsoluteWrite
,
Jenna Glazter
,
Dawno
,
Kira
,
Mac
,
jdkiggins
Make me smile. Leave a comment...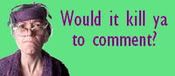 Comment Icon From
Paper Napkin