The Bane of My Life: Micro-Flash Fiction entry
I'M BACK!!!
I came across Matt Dinniman's blog the other day and noticed he was running a micro-flash fiction horror contest for Halloween. Figured what the heck, I have time to write 99 words. Here it is. There's still time to enter if you have the notion. The deadline is Wednesday, October 25 at midnight.
Check it out!
Thanks, Matt. Great idea. It was fun.
The Bane of My Life
I scanned the gray worn and crumbled cement stones and various other statues in the Bane family plot. Idly doing the math, I realized something odd: all the adults buried here were exactly fifty years old when they died. All of them.
A mirror adorned the stone directly in front of me. The deeply carved dates jumped out at me in double vision. It wasn't until the sun slid behind a cloud that I saw no reflection and the large letters of my name JODI BANE.
This can't be! This name always had caused me misery, even in death.
Micro-flash Fiction Contest
,
Matt Dinniman
,
Fireflies in the Cloud
,
Horror Contest
,
AbsoluteWrite
,
jdkiggins
Make me smile. Leave a comment...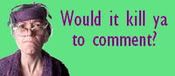 Comment Icon From
Paper Napkin