Surprise Visit, Lunch and Publishing Nudge.
My daughter, Angel, called to let me know they drove in from central PA to visit this weekend. She wanted to take me out for my birthday (a week early) since they won't be in again until Thanksgiving. What a great surprise!
I got to see my precious little granddaughter too! She's getting so big. She's five and half months old now and sitting.
Angel has been after me to get my final edit done on my novel and submit it. As an added nudge, she bought me a book for my birthday: Getting Your Book Published for Dummies.
Boy does she know her mother well, or what? LOL
Of course we had to get a picture of her helping me open my present. Or should I say trying to eat the present?
Thank you Angel, Tim, and Katelyn for the surprise visit, lunch and the book. I get the hint, honest honey
Make me smile. Leave a comment...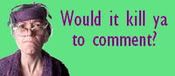 Comment Icon From
Paper Napkin