Time--A Trace of Me
Time goes on. Here it is the fourth of February and I sit wondering where time has gone. Time passes so slowly each day, but when I get ambitious and begin working on all the projects I have to accomplish, I see that time has slipped away. And once again, three months have sped by without a trace of me anywhere.
It's sad when I think about it. I sit in an upstairs bedroom every evening wishing I had more time. More time to write, more time to read—more time for everything. And by the time I make it to that room at night, I'm too exhausted to do much of anything.
So I sit and either work on my writing and write longhand, read books for review, or exhausted from the day, sit idly staring at the clock ticking away time—and wondering where time has gone. Lately, I've had the ambition to do nothing. When ambition strikes, there is no time. When there is time, I've no ambition.
It's funny to think that moments pass into hours, hours into days, and days into months. And soon those months have suddenly become years. When I think of the years that have passed, I cherish them, keep the memories close to my heart, and wish time had slowed down just a bit, to treasure special moments a while longer. Yet, at the same time, I wish some past moments had moved more quickly; to be rid of them, sweep them under a rug—to be forgotten in time.
Today, and all its 24 hours, was no different than any other day. Minutes turned into hours, and here I sit, in that upstairs bedroom. Instead of reading or watching the clock ticking away time, I'm typing my thoughts, recording them—to keep time. Close. Here. To leave a trace of me—as time goes on.
Time
,
Thoughts
,
Memories
,
Writing
,
Wishing
,
Trace of Me
,
jdkiggins
Make me smile. Leave a comment...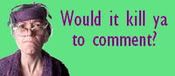 Comment Icon From
Paper Napkin