All Writers Should Research Agents Thoroughly BEFORE Submitting
Don't be fooled by scammers!
All one has to do is Google "
Literary Agent Scams
" to find more than 10 pages of warnings about the
IILAA / International Independent Literary Agents Association
who seem to be taking advantage of writers.
One only has to click on the
IILAA site
to realize a book represented by them would not be professionally represented. Good grief you can't even read the print that melds into the dark, dreary background.
Let's click on the first page and read "Why Choose an IILAA agent?" They claim to have individual specialties, strengths, and weaknesses. Hmmm. I'd like to see the specialties and strengths listed. What are they? I know
why I wouldn't use this agency
. I've already found one of their weaknesses. Even after having a stroke, I know this following sentence is not correct! "This makes each of our members better agents, and thus better able to serve our clients as independent agents." If members are better agents, we certainly know why they won't be in business very long.
IILAA's
description of an agent's job
isn't helpful at all to writers. Of course an agent should be available to his clients. I'd like to see the list of publishing companies they submit to on behalf of their clients. I'd like to see sales (none found) this agency has made. That would show me what this agent considers his job.
What?!!
They charge retainer fees!
Reputable agents DO NOT charge retainer fees. Now isn't this little piece of information on their website professional? WARNING!!! All you newbie writers out there, please, please DO NOT pay a retainer fee for any agent, let alone be "
expected to be a retainer fee.
" How does one "be a retainer fee" anyway? Like I would want these people to represent my book! I'm sure we'd all love "to be" money, but we are writers!
They list
their pick
of the top ten best independent literary agencies, yet they didn't list ten! Something's wrong here. Compare their best to the
Writer Beware's 20 Worst Agents
list and look what
Writer Beware's
has to say about their top nine of ten list.


The IILAA's take on "How to spot hate sites
who prey on the insecurities of writers" pretty much sums up their reason for forming an independent agency. Sounds like that's exactly what their agenda is.
Don't miss the last clickable function on their site! Coming soon: The membership directory and the newest sales by our members. I nearly fell off my BIC when I clicked.
THERE ARE NO MEMEBERS OR SALES!
Yep. Sure. I want this company to represent my book. Where's the rolling on the floor laughing smilie when you need it.
Let's get past the poor excuse for an agent website. They claim that Writer Beware, Preditors and Editors, and various anit-scam groups are part of a conspiracy. Take a look at how they have ruffled the feathers of the writing community.
Agent Kristin
has this to say about it in her blog.
Writer Beware Blog
certainly lists numerous reasons why writers need to be careful whom they choose as an agent.
Miss Snark
adds her literary voice to the subject of "scams, shams and flim-flams."
Here's a healthy discussion at
Absolute Write
about it.
Pay particular attention to the posts by James McDonald and Victoria Strauss. They know what they're talking about.
If that's not enough to convince you, then go to "
The Lies Scammers Tell About Us
" and read how this all started.
Now if you're looking for a legitimate agent, check out the
AAR
(The Association of Authors Representatives) site. They list a
FAQ page
that "really" tells you what an agent does for you.
When unsure of an editor, agent, or publisher, check out
Preditors and Editors
,
Writer Beware
and
other Beware and Background checks
you can find.
If you don't mind being scammed and spending money (retainers) that should not be spent check out the tags below:
IILAA
,
20 Worst Literary Agencies
,
Barbara Bauer
If you want the truth about the publishing industry, see these people who will tell it like it is!
Agent Kristin
,
Jenna Glazter
,
Dawno
,
Miss Snark
,
Preditors and Editors
,
Writer Bewares
,
jdkiggins
Make me smile. Leave a comment...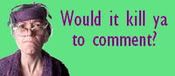 Comment Icon From
Paper Napkin