It's About Time
I know it's about time! But do you?
This post is for all those who have sent e-mails, personal messages, letters, and cards. I thank you. All of you have questioned what I've been doing, where I've been, and why I haven't posted. You all know my days are spent taking care of my mom, yet you still click on my blog each day, or week, hoping I might have posted anything new. For that, I thank you, as well.
So, yes, it's about time. It's about time I listen to all the well-wishers and writing-nudgers and write something. It's difficult to write new and fresh ideas or update a blog each day or week when there's nothing new and fresh to speak about.
Yesterday, I spoke about that ticking of the clock: Time. Time that each of us either wish we had more of, or wish would move more quickly.
Today was no different than yesterday. I spend the days with my mom, reading the newspaper and her friend's letter to her because she can no longer read the small print. I prepare the meals, clean the house, wash the laundry, and do the dishes. And in between the cooking and cleaning, I reread the letter Mom's forgotten I've read, show her a dozen times where her writing paper and stamps can be found, and reread the letter again.
Mom's thoughts flash from moment to moment, and what we read, or watched, or spoke, or did two minutes ago, become new each moment. I've learned to live moment by moment, over and over. After nearly eight hours of repeating what's been said and done, from morning until early evening, Mom's too tired to talk, or listen, or think. And so am I.
Each evening I sit and reflect on the day, and when my body aches, my mind is tired, and I'm too exhausted to think, I glance at the clock, place my long list of writing projects on my desk, crawl beneath the covers, and pray that I'm given one more day with her, no matter what that day will bring.
It's about time. Time to spare. Time to share.
This morning when I placed my feet on the floor, I tiptoed down the stairs as I do every morning. I peeked into my mom's room and watched for the covers to slowly rise and fall, and when they did, I smiled. We both were given one more day. For that, I am thankful, too.
So, as you read, you wonder: Why is she dwelling on time? And I answer, "Because time is all I have."
It's all about time. It was time for me to regroup. And thanks to all of you, over the past several months, I'm happy to say; I've begun writing again. Or at least something close to writing. So, in the evening, after Mom's tucked in bed, I take a few moments for myself—to write. A moment here, and a moment there, add up to hours, and hours turn into days, and for the past month, I've been editing, and rewriting, moment by moment, line by line, my novel, Time Goes On.
It is about time that I write that proposal.
It is about time I submit.
It's all about TIME.
And. . .
Time Goes On!
It's About Time
,
Mom
,
Writing
,
Editing
,
Novel
,
Time Goes On
,
jdkiggins
Make me smile. Leave a comment...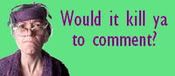 Comment Icon From
Paper Napkin