Book Review: Journey Back by Dan Martin
Journey Back
By Dan Martin
American Book Publishing, Bedside Books
May 22, 2006
180 pp. Paperback
Fiction/Psychological suspense
ISBN: 1-58982-277-3
Amazon Price: $18.00
One day it dawned on me that I had to leave and I had to do it quickly because they knew where I was and how to find me.I don't know how I knew, but it didn't matter. (1)


We first meet paranoid schizophrenic and recovering drug addict Richard Jones after he escapes from an institution for the criminally insane. However, the story begins in the first person POV of Mitch James, Jones's new identity. The next chapter jumps to a third person narrative by Jones about Jones. Throughout the book James and Jones tell the story in alternating chapters.

Confusing? I'm sure.

As an attorney and psychotherapist Dan Martin probably had some wonderful material to make his psychological suspense debut novel Journey Back believable. He simply didn't use the material in a coherent, consistent, or convincing manner.

After a mental breakdown in his freshman year in high school, Jones was diagnosed as a paranoid schizophrenic and was believed to be controlling his symptoms with medication throughout high school and college. He decided he would be a writer.


Several professors had told Jones that his fiction lacked emotional depth, and that his characters, particularly the women, were flat and one dimensional. (28)


Jones thought his medications might be dulling his creative ability. That theory in mind, and that he was jobless and unable to pay for his medication, Jones decided to not refill his prescription. It didn't take long for the psychosis to set in. This is when he ends up slapped into the asylum because he attacked a man with a baseball bat when he finds his equally sex obsessed and disturbed young girlfriend Anna with the other man.

Richard Jones's paranoia comes across as believable, but a paranoid schizophrenic's ability to drive from New York to California in less than 48 hours, change his identity, and land a job writing for an alternative weekly newspaper using a fraudulent resume, is not.

While fudging through stories in his newly found job, Jones hears of "something big going on" and decides this story could give him an advantage, both with the newspaper and possibly with his own drug using and skeletons of the past. He knew just where to go to get the inside information. Joseph.

His seedy, old hippie drug addict friend Joseph was one of only two visitors Jones had in the four months he was in the asylum.
It's been nearly two years since they'd seen each other when all the trouble with Anna and Frankie happened, so Jones was surprised when Joseph showed up unannounced one Sunday afternoon at Quiet Manor, acting like it was no big deal for his friend to be in a mental institution. (63)
Jones knew that Joseph had moved to the Bay area so he calls on him to get the "inside" scoop for the opportunity to write about a secret experiment with a drug called BNG. BNG was said to be beneficial to alcoholics and drug addicts. Its effects allow the users to re-experience traumatic events from their lives and reprocess the memories to help them come to terms with incidents from the past.
But the only way he can convince the underground community leader Raoul to let him write the story is to be part of the testing program, Jones agreed
Raoul discovered the marijuana-looking plant on one of his trips through Africa and South America in 1997. He named it "Bangor" after his home town. Bangor was the central ingredient in the new wonder drug.
Jones suspected that Raoul had given him a small dose of the "green tea" as he skimmed through the loose-leaf binder containing the biographies of the founders, the history of mind-altering substances, and the science behind the Bangor project and the drug, but he wasn't even aware it had affected him.
During his expected using/testing of BNG, Jones said "it seemed to magically transform just about everyone who used it" and "hardened scumbags within two or three weeks become pleasant, cooperative people
Part of it may have been that I was using the drug myself…so I may have been a little more inclined than usual to see the positive side of things and of people. But I know for sure that it was more than that. The trips themselves were wild, always different, sometimes a little frightening, but invariably worthwhile in some way. (154)
Raoul had been pushing him to get the story finished. Then Jones hit a snag with BNG. The trip from the drug left him so spooked he'd stayed in his room for three days and nights not able to think, let alone write.
When Raoul came to his room, Jones showed him the progress he'd made on the story and Raoul suggested he take a break and get "outside" to clear his mind. Had it not been for Jones hearing about the drug bust on his car radio he would have been one of the forty people arrested in an ongoing police investigation.
Maybe it was the author's objective to have the reader jump into the mind of paranoid schizophrenic Richard Jones who speaks in the first person POV and then hurdle readers into the mind of his new identity Mitch James who speaks in italicized third person POV telling Jones's story.
Or was it Richard Jones speaking in the third person about himself and this reader presumed that Mitch James was telling the story?
Either way, it didn't matter at the beginning or end of the book.
And then one day it dawned on me that it was time to go home. I don't know how I knew, but it didn't matter. (179)
Martin does a fine job portraying Jones as a drug addict and the descriptions of the "trips" while on drugs were believable. This reviewer can see how
Journey Back
might be "used as a sidebar to articles on the War on Drugs, or the 'new wave' of mind-altering substances," as was stated in a press release.
As for it being billed as a psychological suspense, though
Journey Back
is a quick read under 200 pages, it didn't have this reader sitting on the edge of her seat, and the only thing that had my head spinning was the jumping POV.
Click
HERE
to purchase Journey Back.
Suspense
,
Psychological
,
book review
,
Dan Martin
,
Journey Back
,
jdkiggins
Make me smile. Leave a comment...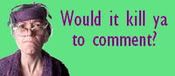 Comment Icon From
Paper Napkin