Friends and Heartfelt Thoughts
Every now and then I take time to read blogs by my friends and I'll comment on their messages for the day or week. Today was one of those "now and then" times and what I found was tear jerking.
My dear friend, Ray, normally posts about writing and publishing and games, quizzes, or fun things he's found on the Internet. Today, I found
his post
about me. It brought tears to my eyes to read his words. Thank you, Ray, for being a friend and expressing such heartfelt thoughts. I'm blessed to have friends like you!
Make me smile. Leave a comment...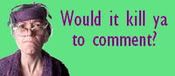 Comment Icon From
Paper Napkin