A Tribute to My Significant Other Two Feather
Last week I went grocery shopping. My Significant Other, Two Feather, who always helps me with mundane chores, carried more than a dozen grocery bags into my mom's house for me, and waited patiently while I hurriedly unpacked the bags and placed the groceries where they belong.
He's such a patient and understanding man to live separate from me, alone in my house, while I live with Mom in hers as her caregiver. We have few hours together each week, yet he hasn't complained that those few hours are spent helping me with the everyday needs like shopping, taking Mom's dog to the groomer, picking up her medication, and having only an hour left to spend quality time together.
Every day he travels through the woods, through all types of weather. He shovels the snow from the sidewalk, plows the driveway, gets the mail and paper, fixes things around the house, takes the garbage to the end of the driveway every week, and does everything that needs done. All this from a man who has no vested interest except love and respect—to make sure that my mother and I are well, and that there will be something left of me, for him, when my days of care giving are complete.
I mention these things not only because Two Feather is my rock and my foundation, but because he said something to me that day that I wish others could see in me as well. Others, who should see it and should know it, but can't see past their contempt for me.
He said, "What you're doing is an honorable thing, Joanne. You're a good, caring and loving person. People who can't see the kindness, love, and unselfishness you have in your heart, are not worth your stress."
He's right, of course, my daughters have told me the same thing. But there's that part of me that WAS unwilling to give up. That "STUPID" part of my brain and heart that tells me to keep trying—to try and make people realize I'm not the person they think so lowly of.
It wasn't until Two Feather said this, that I realized I need to quit trying. It's not my job to conciliate or placate others to help them understand me. It's not worth my time to try, and then end up belittled, scorned, or hung up on when I'm trying to speak from my heart. It's not worth the heartache and stress.
So, I'm going to cherish those who do understand me, those who do make an effort, and those who do know me for who I am. And I'm going to cherish the time I have with my mom and ensure that whatever time she has left on this earth will be filled with the love I have to offer, selflessly. The least I can do for a woman who gave me life is to give it back, day by day, and know in my heart that I'm doing what is best for the safety, welfare, and dignity of a woman who has selflessly shared so much with her children.
I know, even though she may not remember, I'm doing what she requested. And though he's gone, I know my dad would be proud of me for giving selflessly of myself as they did for us.
So on this very special day, I honor my SO, Two Feather, for all the love, compassion, patience, and selflessness he has shown Mom and me and the two elderly neighbors on the road to my mom's house. He is truly a blessing to us all and it is with utmost respect and love I say "thank you" for everything you've done, said, and kept to yourself, during this difficult time we share.
I cherish each moment I get to spend with you and pray we have many more moments and years together. I love you, Two. Thank you for being you, and for being there for me. Happy Valentine's Day!
Labels: Caregiver, Cherish, Happy Valentine's Day, Honor, jdkiggins, Love, Mom, Patience, Respect, Selflessness, Significant Other, Two Feather, Understanding
Make me smile. Leave a comment...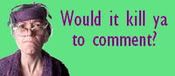 Comment Icon From
Paper Napkin