Seven Writing Questions: A Meme
Tagging Along
I wasn't tagged with this, but when I read
Bhaswati's blog
, I liked the premise so I decided to delve into my brain and jog a few memories.
1. What's the one book or writing project you haven't yet written but still hope to?
I hope to finish a series of children's books based on my life growing up in the country. It wasn't as boring as you may think. ;)
2. If you had one entire day in which to do nothing but read, what book would you start with?
The first book of Stephen King's Drawing of the Three series. I have every one of his books and have yet to read this complete series.
3. What was your first writing "instrument" (besides pen and paper)?
My dad's Smith Corona typewriter. (I still have it.) I used it to type my very first published story. In fact that old typewriter (along with lots of carbon paper) is what I used for years before I finally broke down and bought an IBM Selectric typewriter decades later. I have to admit, computers make the job so much easier.
4. What's your best guess as to how many books you read in a month?
At one time I would have answered 15. I read constantly and could finish a larger book within two days. Lately, I'm lucky if I have time to read one book a month.
5. What's your favorite writing "machine" you've ever owned?
Next to my laptop, the best machine was my top-of-the-line Hewlett Packard packed with every gadget imaginable back then, along with the HP All-in-One copier/fax/scanner/printer, which also reduced and enlarged copy.
6. Think historical fiction: what's your favorite time period in which to read?
Historical fiction is really not my favorite genre. With that said, I did read Louisa May Alcott's series and loved the time period in which they were written.
7. What's the one book you remember most clearly from your youth (childhood or teens)?
Black Beauty
. It was the first book I read as a child. I remember taking it to school with me and sitting on the sidewalk by the playground reading while others played on the swings and see-saw.
As for tagging, I'm not going to tag anyone, but if you so choose to play along please let me know so I can read your responses. :-)
Labels: Bhaswati, Books, Childhood, jdkiggins, Meme, Seven Writing Questions, Tag, Typewriter, Writing, WritingAfterDark
Make me smile. Leave a comment...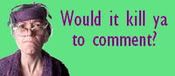 Comment Icon From
Paper Napkin