No Power, But Still A Wonderful Visit
My daughter, Stacey, came in Thursday evening after the storm. Two Feather had to cut the trees more and move them from the drive so she wouldn't have a problem getting down the driveway after dark. She wasn't aware we didn't have power until she was in Cranberry and called my cell phone to let me know she was close to home. She and Two Feather entertained each other all evening by candlelight.
I found out how much we truly depend on electric. No electric means no stove, no lights, no water, no flushing the toilet, no anything! By the time Mom gets home from day care, she's tired. There's only time to eat and get her ready for bed before her eyes show signs of dozing off at the table. So I had to hurry to get things done before the sun went down. I made sandwiches and a salad and Mom and I talked at the kitchen table for a bit before she went to bed.
Then, I headed upstairs in the dark. Nothing to do, but sit and wonder when the electric would come back on. I tried reading by flashlight, but that didn't work. My eyes are getting too bad for that. I tried lighting a half dozen candles and using a flashlight to try to get some writing done, but that didn't work either. Do you know how hard it is to hold a flashlight, hold paper, and try to write at the same time? Believe me, it's not easy. I finally gave up, called Two on the cell phone and told him I was going to bed. Figured I might as well catch up on some sleep. Yeah right. When you want to sleep, it escapes you. I leaned against my pillow and stared at the stars out the window, hoping for morning to come quick so I would have something to do.
Friday, Two Feather, Stacey, and I went to a large outdoor flea market. It is the market where Two used to set up and sell his Indian art. We spent the day there. Stacey was looking for a puppy. We walked from one end of the market to the other twice because she couldn't decide between a six-week-old Jack Russell or a Puggle. Yes, I said Puggle. I'd never heard of the breed before, but I soon found out it is a mix between a Pug and a Beagle. And, oh are they cute! Stacey ended up choosing the Puggle. He's adorable and he took to her right away. He follows her around and listens to her very well.
This is Soup. Yes, that's his name. When she picked him up and decided he was the one she wanted, she asked Two Feather what he thought of her dog. He said, "Yep, he's soup." It's a long story. An Indian story some wouldn't want to hear. LOL Anyway, she liked the story and she named him Soup. Two, Stacey, and Soup went to my house and later sat by candlelight for the evening, because we still had no electric.
I picked Mom up at the day care at the regular time. After she was in bed, instead of trying to read or write as I did Thursday night, I decided to try sleeping again. Sleep didn't come any easier Friday night either.
Angel, Tim, and Katelyn came in Friday night and stayed at Tim's mom's house. Our power came on for about an hour Friday evening; long enough for me to post the winners of the Absolute Write August Freelance Contest. Then it went out again until sometime early Saturday morning.
Everyone came to Mom's house on Saturday. Here's everyone in the kitchen. Mom, of course, had to turn just as I snapped the shot, Stacey is leaning against the wall, Angel is to her right, Tim is sitting in the chair, and Two Feather is standing over by the door. Yes, there is someone standing there. He just blends in with the woodwork.
Katie took her second ride on Pap Pap Two's Mule. Daddy rode along this time.
Bammaw (that's me) was given the pleasure of holding Katie. She was more interested in the puppy than me, but that's okay, at least she let me hold her this time. She's not one to sit very long. She'd rather be on her own two feet running around now that she's walking. She's growing so fast.
Stacey's been living and working in Mechanicburg, PA since February, waiting for her husband, Dennis, to retire from the Army. So he stayed in Alabama in their house and applied for jobs. He applied for jobs in PA, but received a good job offer right near where they lived in Alabama. Stacey visited by herself this time because Trinity and Quenton went back to Alabama with Dennis to start school and Stacey will be moving back in September. :(
Here's a picture of Auntie Stacey with Katie and one with Angel's hubby, Tim.
Katie had fun picking up sticks and stones in the yard and playing with the dogs. Here she is being held by Angel over the sink washing her hands before she eats lunch.
It was a nice weekend visiting with the kids. I miss being at my home, but after they visit here at Mom's, I miss it even more. Everyone left Mom's at 3:30 so I could make dinner and get her ready for bed. A lot of activity for more than a few hours tires Mom out. My girls visit often enough to recognize when Mom's looking tired and it's time for their visit to end. They also know that my day ends and life sort of stops at 5:00 PM when Mom crawls into bed because she's exhausted by then.
I miss being able to sit on my deck or in my house and talk with my daughters until the wee hours of the morning like we used to do when they visited. It's difficult sitting in an upstairs bedroom, trying to find things to keep myself busy, knowing that there's another whole world out there that I've forgotten how to live in because my world revolves around my mom. What is more difficult is watching Mom's world get smaller and smaller by the day. More and more of her memory fades with each passing day. I'll talk more about that later.
I'll end this post on a bit brighter note, though. Here's another picture of Bammaw and Katie. I think she was trying to tell me it was time to get down and run around again.
Labels: Angel, Mom, Puggles, puppies, Stacey, Tim, Two Feather, Visits
Make me smile. Leave a comment...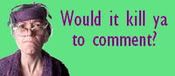 Comment Icon From
Paper Napkin