Adult Day Care Picnic and a Weekend of Respite Care
Friday, August 24, 2007
Today was family picnic day at the Adult Day Care facility where I take Mom to gain a little respite care. Caregivers were invited to share the day with the family member and experience a typical day for the patient. I attended last year and pretty much know what her days are like, but since I was going to be away for the weekend I thought it would be a good idea to spend the day with her on this special day.
Clients who attend the Day Care start their day with a bit of exercise (most from the chairs they're sitting in), which includes arm and leg movements to music. After the fifteen minutes of musical exercise, they move to neatly set tables for breakfast. Freddie the musician normally comes every Wednesday to play oldies (the 30s to 60s) and the clients who feel like kicking up their heels get on the dance floor. Mom never misses a chance to dance. That was one thing she and Dad did every Friday night when I was a youngster. Last year the musician played one of my mom and dad's favorite songs, "I'll Be Seeing You" and naturally, being the emotional and sentimental fool I am, I had to step outside while the tears flowed down my face.
That song just tears me apart every time I hear it because Mom and Dad danced to it at the Friday night fire hall dance and fish fry every week. Dad would dance with Mom and I would wrap my arms around both their necks and be strolled around the dance floor with them as I sat on his elbow. I was small, but he was strong as a bull.
This year, I expected and prepared myself for the song. I took pictures of Mom dancing to that lovely song, but due to the privacy of other clients, I'll not post them. Let's just say she didn't kick up her heals like she used to do with Dad, but seeing her shuffle her feet to one of her favorite songs (and mine) was enough to reduce me to tears again this year.
I'll Be Seeing You
I'll be seeing you in all the old familiar places
That this heart of mine embraces all day through
In that small cafe, the park across the way
The children's carousel, the chestnut trees, the wishing well.
I'll be seeing you in every lovely summer's day
In everything that's light and gay
I'll always think of you that way
I'll find you in the morning sun
And when the night is new
I'll be looking at the moon
But I'll be seeing you.
The singing and dancing lasted about an hour and, as Freddie packed up, everyone placed themselves at a table for lunch. Fruit salad, hamburgers and hot dogs, baked beans, and macaroni salad was served. After lunch a magician came and performed, and then there was bingo and a drawing for the door prize.
The affair ended at 3:30 and we were on our way home. After spending the entire day at the Day Care with Mom, we came home and finished off her day in the usual manner: making dinner, getting ready for bed, and talking at the kitchen table until her normal bedtime. Over the past year her bedtime has become earlier and earlier as she tires out quicker from her long days. Fifteen months ago she was staying up until 7:00 PM, a year ago it shortened to 6:00 PM, and just in the last six months she's been getting exhausted around 4:00 PM and going to bed by 5:00 PM.
Mom was exhausted when we reached home today.
I tucked Mom in bed around 5:15 PM and went upstairs to my room to wait for my daughter, Angel, to drive in from Mechanicsburg. She made the four-hour drive to stay with Mom this weekend so Two Feather and I could spend the weekend together.
Angel arrived a little after 10:00 PM. I stood on Mom's porch with her dog so he wouldn't bark and wake Mom, but Mom knew Angel was coming and dozed and woke every hour until she knew Angel arrived safely. (Even Alzheimer's sometimes doesn't change the way one cares or worries about the safety of others.) Once Angel was in the house Mom fell asleep and we could hear her soft even breathing from the baby monitor in my room as I explained the weekend directions to Angel.
By 11:00 PM I was sitting on my couch at my house just a stone's throw through the woods from Mom's house.
It felt eerie driving at night. I can't remember the last time I've been out in a car after dark. It felt strange being in my own home that late at night, too. Everything felt strange, but it felt wonderful at the same time.
Labels: Adult Day Care, Alzheimer's, Angel, Dancing, I'll Be Seeing You, jdkiggins, Mom, Picnic
Make me smile. Leave a comment...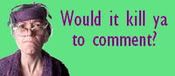 Comment Icon From
Paper Napkin